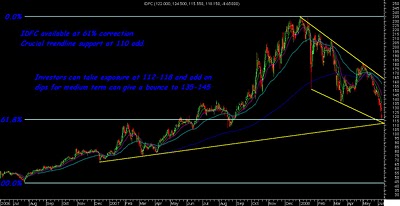 IDFC one of the stocks which tried to sustain the Jan blows but now cracking after the infra pack. Also was a favourite of market players even after Jan. Fundamentally one of the excellent stocks to stay for a very long period of time .
Technically it is close to 61% fibo retracment since being listed . Such a level is generally good for investors to take a good exposure for long term. Also with a trendline support around 110 if sustains could give a quicker bounce to 135-145 levels in a bounce back of indices.
Strictly a recommendation for medium term for investors with patience who would like to add more on dips if they come. May bounce in near term traders could keep a stop below 104 would prefer investing in it then trading though.
Best Regards,
Nooresh
09819225396