Bank of Baroda one of the good banks fundamentally but below 250 could head lower slowly ...
cup and handle pattern but INVERTED Chart ........ In selling pressure could see a steady decline like SBI .... Investors can look at 190-220 levels as areas to buy staggered,.... Traders can short though for those levels....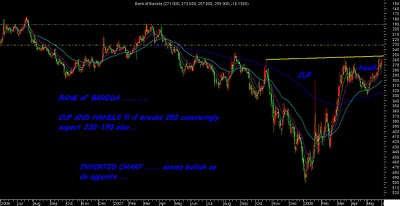 Punj lloyd excellent cup and handle !!! only problem the chart is looking bullish but only thing done is its INVERTED !!! .... Results came in which were decent but a fall with good volumes . If it closes below 280-285 could touch 250-220 in worst case . Nothing wrong fundamentallly with the stock but seems a trading crack on cards... Investors should buy staggered at 250-220 if it comes for long term only if they like the stock ....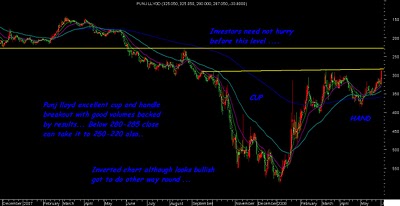 Best Regards,
Nooresh
09819225396