Sensex Technical View :
In the chart posted yesterday we had seen that 16500 is a crucial support and should hold up . The markets have retraced 38.2% arnd 16560 levels of the current rally from the top of 17735. Technically it is always good to be buying around the lower end of the channel for a bounce back which in current case should be 17200 odd levels. Only a rally beyond 17300-17500 zone convincingly can we confirm a rally to 18300 till then its better to be stock specific with lower volumes.
I have always been of the view to buy in momentum rallies then in bounce backs which may or may not last or go in for limited upside in a slow manner
Traders who reduced at 17500 should wait for dips or a clear reversal above 17300-17500 zone again to start buying till then rise to 17200 should be used to book profits or generate cash slowly if u had bought at the suggested levels of 15950 .

Stocks to watchout for :
Assam Company does 10 % upper freeze at 29.80 looks set for 35 can book partially to reduce risk , Webel Solar does 370 book profits , GE cap trans and Petron engg hold and do ur own research before buying slowly and remember dont take over exposure in illiquid stocks...

RCOM looks good for 570-585 if sustains above 555 levels traders can keep a stop of 540 or below

Ranbaxy is trying to again go beyond its earlier highs of 500 odd if does so the momentum should take it to 525-530 .... Traders can keep a watch ..

Confidence Petro and Todays Writing ( oil exploration ) are seeing good speculative build up .... high risk traders can go long with a view of 2-3 weeks for 10-20 % gains.

Geodesic looks good on charts but a buy only above 205-208 levels can note it as breakout may take few days or weeks also ...
TECHNICAL ANALYSIS SESSION

AHMEDABAD MAY 24-25

MUMBAI MAY 31-June 1

Interested people can call Nooresh 09819225396 ( after mkt hours ) for queries /confirming their seats/ venue and other details or mail to noorrock2002@gmail.com

Have posted below a few charts which are near supports and bottom buyers can go long for 5- 8% upisde with a stop of todays low or close for short term ...
IDFC , Kotak Mahindra Bank and DCB are the charts given below ... there are many stocks with similar trendline supports but i always prefer to trade breakouts then bounces 😉 ...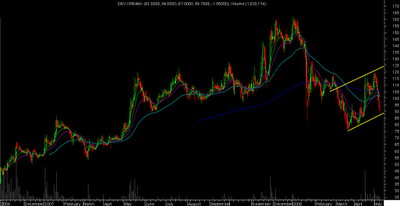 Nooresh
9819225396