Sensex Technical View :

Sensex is again getting sluggish near the 16800 mark and needs to clear the level of 16900 odd convincingly to take a crack at 17500 .... Short term support is placed at 16500 below which it can take a dip to 15950 again ... So yet again traders have to wait for a clear signal to take fresh positions again ...I think everybody made a good killing in the rally from 15950 to 16800 which was stated with technical reasons some days back ...Be highly stock specific !! as some stocks still are left to bounce 🙂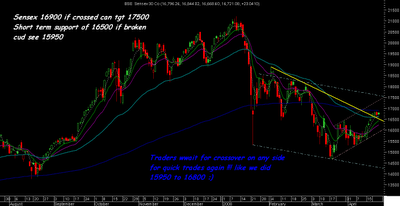 Global Scenario :Generally the global charts r covered in my monday post but would be taking a break in the weekend so updating it today .
Statistically indian indices have hihgly underperformed in the current pullback and also took a bigger correction then the global indices. This has been the case with emerging markets all the time ... This is evident from the charts below ....Only thing is we have still not pulled back as compared to other EMs like Hong Kong ...
Points to note : After 21 jan Sensex and Hang Seng made lower lows by small margin ....In the meanwhile Sensex highest pullback was 18900 .....similarly other markets also had pulled back...All the world indices are above the intermediate high ( compared with 18900 ) but Sensex is still struggling at 17k ......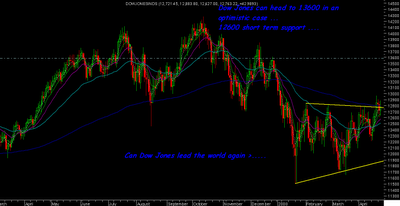 Dow Jones in breakout mode can it actually power up and lead the world ....Can it touch 13600 ...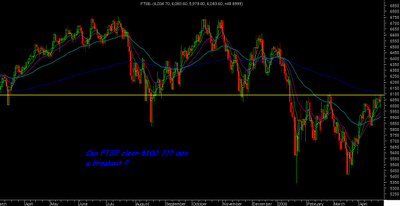 FTSE on the brink of crossing 6100 .....Can it take it ...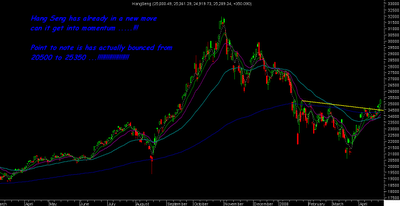 Hang Seng recovery frm 20500 to 25300 super !!! broken out can it get into momentum after crossing a major level.....
Stocks to watchout for :
Stocks discussed yest dint trigger much on volumes so still waiting , Spicejet moves up sharply much more left buy !!! , EKC does 332 frm reco price of 312 ... Pochi raju does 15% , shree digvijay hits 24.5 , Guj siddhee steady hold.
Spicejet has crossed the level of 43 and bottom fishers and traders can buy the stock with a tgt of 48-55 + .
Crest communications looks a risky bottom fish for a bounce back ...
Best Regards,
Nooresh
919819225396