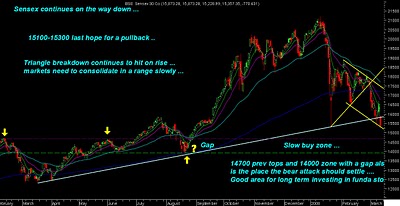 Sensex technical View :
Short Term View:
Sensex has broken below the Jan low of 15332 and closed near to it and the near term down channel line support is around 15100 odd zone. Sustaining below 15100 for some while would imply the index opens up to 14700 ( tops of previous rallies ) , 14160 a small gap and majorly 38.2% of the rally from 3000 levels where our lifeline starts from . So investors with a long term view can start pulling up their capital and stay ready to start buying slowly in stocks they like fundamentally. Investors should buy in lots of 10-20 % of what they intend to from tomorrow. Traders should avoid bottom fishing till markets dont stabilize and its not necessary to trade everyday.
Nifty Short term View :
The reason to mention Nifty view which i generally dont do is that Sensex has broken the Jan low and is below the supporting trendline whereas Nifty is well above it.
Nifty is still trading above the trendline where Jan low was made and is also above the down channel . 4550 is a crucial level to watch out for annd sustaining below that will open to 4200-4400 range roughly .
Long Term Technical View :

On a longer term chart Sensex is sustaining below the lifeline and being a 5 yr trendline it has to be seen whether market close below the line for 1-2 months to confirm a slowdown of the pattern where in markets would hit new highs after touching the lifeline. Such a conlusion can only be taken after 1-2 months from now and what is seen generally in this channel is markets bottom out near to May so we can review the long term multi year view by end of .
Points to note before that time period is Sensex should sustain above 14200 area which is 38.2% of the 5 year run.
If the index closes above the lifeline which may roughly be 15500-16500 till May then we can say that sensex is still in the newer high pattern and which a rally can be likely from June or later . So once the scenario clears in next 2 months we can come out with targets and view for the year ahead .
Only if markets start trading below the 38.2% retracement we can term it to be a breakaway from the channel and would see a sideway move for a much longer time and a slowdown or rationalization of the growth we are into .
Strategy for long term patient investors should be to buy on declines around 14200-14700 or start with token quantities near to 15100-15300 zone and be patient and calm in the dips if it comes as ideally Bear markets start dying when pessimism starts living up.So the bottoms are generally due to sentiments and one cannot exactly find a bottom so can start buying slowly on dips from here. But those who buy do have a downside risk of 15-20 % from current levels so be ready to digest it or wait for a reversal and change of trend which may take quite some time.
Fundamentally India growth story continues to remain one of the best in the world to put money in but every rally should also have good corrections to clean up the excesses and more the excesses heavier the correction which can be termed as one of the reasons for a sharp drop.
Stocks which have over corrected and can see much more from here also in weak sentiments but have a good fundamentals in place which look good for bottom as of now are DLF , UNITECH , PUNJ LLoyd , Larsen and Toubro which can be bought if they correct more then 5-15% from current levels. Only partial allocation in the high risk part as they can still continue to slide as they had a much longer rally ...
Best Regards,
Nooresh
09819225396