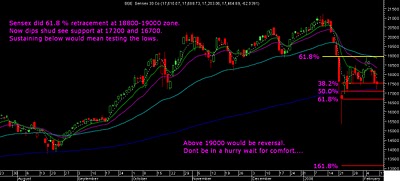 Sensex Technical View :
As a continuation of the previous view dont be in a hurry to start buying and wait for good opportunities with the cash in hand. Had advised reducing leverage on rise to 18800-19000 and book profits in the bounce back stocks. Supports on downside are 17500 and 16700 . Only sustaining below the level would mean testing of the lows. Trend reversal or fresh bullish ness would only be above 19000 for medium term till then it shud be a range bound consolidation.
Stocks to watchout for and critical levels :
ICICI BAnk , Kotak Mahindra Bank and Axis Bank have been correcting heavily in the current dip and charts dont look good so avoid bottom fishing in the same ... Bank of India and BOB are near supports at 350 and 380 and below that could see some selling ...
Only the Oil stocks like BPCL and HPCL can give a positive surprise above 445 and 290 ...
Relpower listing tomorrow could add more to the volatility ... the view in the market is not positive and expectations are not great ..... As i dont track IPOs cant say more but would be hugely volatlile and brokers would be screwed punching orders 🙂 .....avoid speculation is all i can say ........
Best Regards,
Nooresh
09819225396