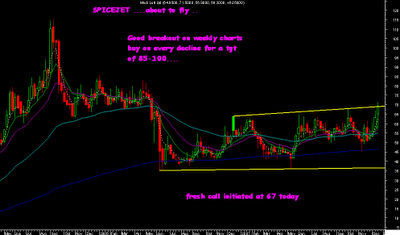 Spicejet has given an excellent breakout on weekly charts today as expected . We had initiated a high risk punter call on it few days back .The current breakout indicates buy half or more now and slowly on every decline for a short to medium term tgt of 85-100 or more.
47% delivery today in a volume of 1.25 cr shares
12-Dec-2007 13:10:22
High risk punter call buy SPICEJET for 3-6 mths stop of 52 tgt 75 .
MESSAGE sent today to clients in the evening.
18-Dec-2007 14:48:45

Spicejet moving .... breakout level for momentum is 67-70 zone above which tgt is 85 -90.
18-Dec-2007 14:54:14
Spicjet is a breakout buy now and keep provision to add on declines for short term delivery
Best Regards,
Nooresh
09819225396