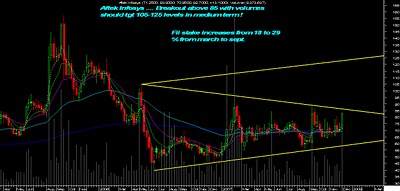 Aftek Infosys ( 82.70 )
Technical View
The stock is looking good on the charts and can see a fresh breakout above 85 levels. Good volumes also supporting. Sustaining above 85 should target 105 and 125 in next 2 weeks to 3 months.
Fundamental Story :
Aftek has many subscidiaries like Arexera which holds some stake in Seekport which is listed on Frankfurt stock exchange.
FII stake has increased from 18% to 29% from march to sept. people can do more research on the above leads.
Regards,
Nooresh
09819225396