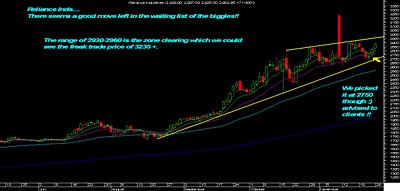 Reliance Inds looks the only biggie which has not got the run up needed !!! Technically the stock is in the waiting to possibly give a good move if crosses 2930-2960 zone and closes above. Investment in the stock always makes sense if u r patient enough... Markets can see smooth days only if this biggie fires...
The stock was advised to clients on friday at 2770-2730 range to accumulate with a short term tgt 2920 and above ... Still holding on 🙂
TECHNICAL ANALYSIS SESSION MUMBAI DEC 1-2 . Confirm ur seats if u r seriously interested.
The course is designed in such a way that u need no knowledge of technicals or fundamentals just brief idea of mkts. The course is meant to train and make people independent and be able to analyze the way we do it in a simple manner. All those who are really interested in learning the analysis can get in touch if they have any queries . Nooresh 09819225396.
Sensex technical View:
Markets have seen a good bounce from 50 dema and the major resistance for the market is at 19800 zone.. The strategy would be to reduce the bought index stocks in dips around that zone and look to re enter on declines or on close above 20200... A gap up today also is not a gr8 sign.
Review :Walchand announces bonus and split as said frm much lower levels that split announcement by dec 🙂 ... Revathi does 1300 + stay invested if u r patient or book some and forget rest , Great offshore and prajay hold. Majestic does intra freeze but not much chance given.,...Deccan gold mines and bihar sponge our weird ideas have more thn doubled ... Reliance given to clients at 2750 does 2900 still holding for more....
Stocks to watchout for :
Reliance Inds and JSW Steel are the stocks which look excellent in the FNO segment for positional players and short term delivery on every decline are accumulate.... Positional tgts would be 3200 ++ and 1100 ++ with deeper stoplosses though .( Disclosure already recommended at 2750 and 960 in last 2 days to clients )
Punters Picks for risky players:
Avantel Software, Kaveri Seed and Panoramic Universal for short term 20-30 % + moves and risk of 8% from current levels....So pick ur pick and put ur tgts and stops 🙂
Ankit Metal for intraday ckt hitter and quick trade in the morning...
We have started a free trial cum testing of SMS for friends....To start receiving the messages read below : SMS ->JOIN NooreshTech to 567673434SMS which will be charged 3 bucks i suppose. Use the exact uppercase or lower case as given. Or login to
www.smsgupshup.com
and join the group.
Best Regards,