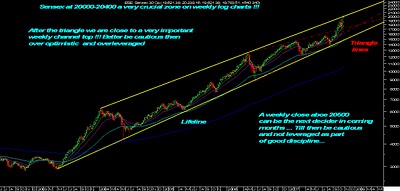 The view is mentioned in the chart ...
We are nearing the crucial levels of 20400 zone which is a good resistance and with the gaps left on the lower side its better to be little cautious and not over optimistic as part of good discipline. So look to be alert for signals and book partial profits in over run stocks to conserve gains or keep strict trailing stops...
This is because for scalpers ,jobbers and traders dont make a great deal of money in such huge rallies and end up giving a lot in corrections...Investors and good traders can gift some of the money back to the markets in corrections though 🙂
The gap at lower still continues to be a matter of concern and resistance would be seen around 20400 levels .. With the Fed cut the momentum and sentiments are up and we could be knocking those range and the cut has on a major sense already been discounted and with the result season over we need some other cues to pull up or down the market... Look to book partialy at 20400 area and keep trailing stops to conserve gains and be highly stock specific as there would be quite a lot of out performers also if markets dip a bit...
The stock is all set for good moves in short term .. Accumulate on declines for a good 20-30 % in next 2 weeks to 2 mths
Investment picks .. Safe for 1 yr slow and steady gains
The stock is excellent fundamentally and is going cheap on the valuations and future prospects ...Dont worry about the entry point just keep buying small on every decline or every few days, weeks , ,months as per ur patience and create a recurring deposit for 1 yr ...
Another stock which is hot on charts as well as fundamentals buy half now and on declines for cool 30% in medium term
Tinplate , godawari ispat, Easun reyrolle for intra day 5- 10% moves
TECHNICAL ANALYSIS SESSION DELHI NOVEMBER 17-18 .SERIOUSLY INTERESTED PEOPLE CONTACT NOORESH 09819225396 for details