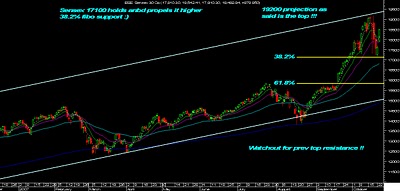 Sensex chart out there shows the Fibo support we talk of !!!
simple 19198-13780 = 5418
38.2% of 5418 = 2070
Retracement = 19198 - 2070 = 17128 !!!!!!!!
BOTTOM of sensex 17171 !! diff of 50 points fair enough ... Thats why the strategy was buy half at 17100-17300 zone and wait for 16500-16800 or stability .....So currently half the quantity bought now wait for stability or close above 19200 simple
TECHNICAL VIEW :
The support at 17100 levels did hold up and propelled sensex to higher levels after a SEBI con call and clarity on P notes issue ....The markets took away the short term resistance at 18100 levels and sustaining above 18600 levels could lead to huge short covering possibly ... The levels to watchout for are prev top at 19200 zone... Be highly stock specific and take fresh positions on stocks which u r confident about and are ready to hold through the volatility !!!
Review : Walchandnagar does 7k , core projects 226 , Tata chemicals 330 , mtnl 186 all looking good ...
Stocks to watchout for :
GE SHIPPING
Already covered at lower levels ... It remains a favourite in the shipping sector and watchout for 440 crossover for momentum to take it to 500 levels...Disclosure ( Aggresively recommended to clients frm 360 levels )
Hero honda above 780 , TISCO traders can buy with 1 % stop for tgt of 925 and above that sheer momentum to 1k in good sentiments high risk high returns ...
Hind Oil exploration looks good for medium term investment with a tgt of 150
Prime FOcus for ckt hitter of the day , HFCL non stop ckt hitter in line for few days !! 🙂
TECHNICAL ANALYSIS SESSION MUMBAI 27-28 OCTOBER , NOVEMBER 17-18 . SERIOUSLY INTERESTED PEOPLE CONTACT NOORESH 09819225396 for details
Best Regards,
Nooresh
09819225396