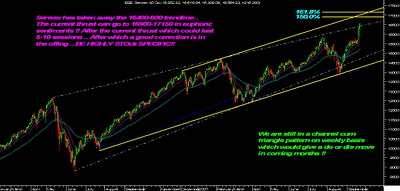 The Sensex chart is updated with the view ...Just click to and check it for a bigger picture..
RPL and RNRL rocked the streets ...RPL short term call was initiated at 115 of late for a tgt of 140 but we maintained a hold after that also 🙂 and RNRL i have been recommending frm 28-30 levels...Just a few days back had mentioned the same on the blog...
Stocks to watchout for :
Jindal Stainless and Syndicate Bank look good for a weekly call ... High risk high returns..
Alpha Geo my never sell stock hits a new high ... Intra day traders can look to buy for ckt ... Investors still hold on.,..
NEPC India ... for intra ckt ...earlier weird small cap idea..
TECHNICAL ANALYSIS SESSION MUMBAI : Tentatively scheduled Sept 29-30. do get in touch to confirm your entry ....For more details Nooresh 09819225396 ...Also people from other cities interested mail me ur details so we can arrange a session in the city , Delhi is on cards soon in october ......
LONG TERM CATEGORY
Mcnally Bharat Engg
Another stock which should be bought without price being a consideration but its about the quantity u accumulate and the time u r ready to wait...
This is a next multibagger in the making have been recommending consistently to clients and the blog in the range of 180 -190 and at 165 odd also ... Currently trading at 210... Can give good 50-100 % in next 3 mths - 12mths ...
Some promising announcments on the funda side...
received an Order for setting up of By-Product Plant for IISCO Steel Plant, Burnpur from Steel Authority of India (SAIL) valued at Rs 258.68 crores, inclusive of all taxes and duties
received an Order for supply of Dry Fly Ash Extraction & Collection System from NTPC Ltd for its Rihand Plant valued at Rs 13.80 Crores
Many such orders expected and good growth story ....Its a good portfolio pick accumulate !
Best Regards,
Nooresh
09819225396