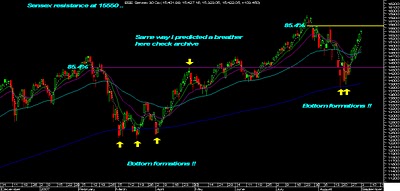 Sensex as per the previous impulsive move from the bottoms at 12300 did the fibonacci retracement of 85.4 % ... Even then we had given those levels for a breather which was accurately picked gain...
Currently the bottom formation may have not been similar but fall was lesser in magnitude .. The current rally should take a breather at 15550 areas.. and its also a gap resistance .. The dip from those levels if takes a breather should be to 14800-14900 levels ideally to buy
Stocks that did rock :
CENTRAL BANK written good for intraday and also for weekly ... moved up frm 125 to 135 a cool 8 % in the day in a FNO stock ... does our tgt of 133-137 ( recommended to clients in the morning )
DENA BANK also up 5% ..RPL yes our btst call frm 115 does 123 still looking good our tgt of short term 130-140
All the BTST calls of friday NTPC ( our favourite in the power sector for so long ) , IDBI , RPL , Ranbaxy , BRFL gave super gains...Holding del in all 🙂
BTST of today holding ABB at 1164 , MRPL at 43.7 , RNRL at 46.3 ( part booked ) ... K S Oils del call from 53 does 63 holding on for much more....
TECHNICAL ANALYSIS SESSION MUMBAI : Tentatively scheduled Sept 08-09 do get in touch to confirm your entry ....For more details Nooresh 09819225396
Investment Stock :
KLG Systels buy between 460 to 440 for a target of 550-700 in next 3-9 months ..SHort term momentum on close above 465 ( add good qty on breakout ) ... Its a super fundamental stock recommended at lower levels before ..Looks good for short term movment also .. good MF n RCap others holding ..
MCnally Bharat was recommended 2-3 weeks at 170 levels alongwith elecon engg , GEI inds alll are goin gr8 guns ...Mcnally can still be bought on every decline till 200 for a medium term tgt of 300
Weird Small cap idea :
Noble Explochem
Expect non stop movement for next few days high risk high returns
Best Regards,
Nooresh
09819225396