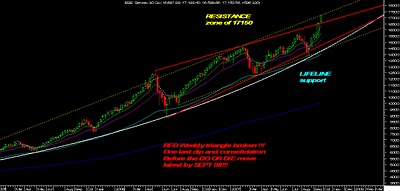 For last 2 months even through the declines and rises i had given 17150 to be my target for short term ... Technically now we need a good healthy correction or consolidation in coming 2 -3 weeks ....Expect torrid movements in first two weeks of October ...As there is huge resistance at the given zone and the risk to rewar d is now shifting towards selling and ideal strategy is to reduce exposure and wait for declines ...
Alternative less probable scenario :
Technically the index looks in an overbought stage .,.. The targets of 17150 on sensex and nifty 5050 are reached almost..
In an ongoing thrust move and breakout above 17300-17400 close for 3-4 sessions would negate the importance of the channel line as shown in the chart.. The next target for the yearly scenario is 18250 or higher which can be achieved .. This scenario looks bleak to me ...........
Strategy :
Since the index crossed 16900 levels and closer to our target i have suggested reducing the general exposure u take in a trading position to all ... As a disciplined investor and trader the next important thing after making good profits is to conserve the capital created!!!
By gods grace and hard work i believe we have utilized the lower levels and the current rally by making good money ...
This is the best time to review your portfolio ... Exit all the pennies , risky bets , Over run stocks , fundamentally weak stocks ......... Every few months as one revamps and reviews their business and strategises for the next season of earning do the same in your portfolio now ... For investors who are looking at a horizon of 3 months to 1 year there is nothing to exit ..Its just to get some money on the table to utilize it back in a much optimized way ...
TECHNICAL ANALYSIS SESSION MUMBAI : Scheduled for Sept 29-30 . do get in touch to confirm your entry ....For more details Nooresh 09819225396 ...Also people from other cities interested mail me ur details so we can arrange a session in the city , Delhi is on cards soon in october 2nd -3 rd week !! ......
https://nooreshtech.blogspot.com/2007/03/technical-analysis-session.html
An old post giving a brief of the course which is for making u independent in your decisions 🙂 for more queries Nooresh 09819225396 .
Review :
TVS motors and BAta dint cross the given levels , Kirloskar ferrous does 68 frm 49-50 book profits to a large extent and re enter at lower levels , GIPCL book part at 88-90 and leave the rest , SUGARS stoploss hit so better exit short term positions ...Our trailing stops got hit so exitted pity early
No fresh recommendations for investment as i would rather wait as my risk calculations are not favouring ... Stock specific trading and investment for short term and long term will continue to clients if any ...
Sector View :
I still remain bullish on BAnking stocks with a medium term view.. Only problem is not getting declines to accumulate but would wait a little ..Those who are holding from lower levels can wait to add more...
Cement stocks are witnessing good buying especially the mid cap segment so would be good bets on declines,
Power ya my favourite sector is still going strong ... Can book profits partially to re enter at declines gradually ....
IT remains a odd lot and i never like to be a contrarian coz its stupid to make little or no money and satisfy ur ego by a 5-10% gain in a contrarian call and not make 40-50% or more in power or refinery sector momentum call .... I would still prefer the Aptech n Niit to IT stocks as i have continously maintained ...
Day traders call :BUy Deep inds for intraday ckt , Zee , Lic housing , Jet Airways for quick trade in first 2 hours of opening
Weird Small cap Idea :
Silver Line technologies
Every punters favourite !! The stock has bounced well technically and looks set for a fresh round of buying and with rumours of a very good demerger story etc etc ...Lion hearted traders and investors can look for quick 20-30% gains ... Not the best funda stock though but if u r game for risk then only put ur hands...Also keep watch on Hind copper , Futura Polyester full story tomorrow...
Best Regards,
Nooresh 09819225396