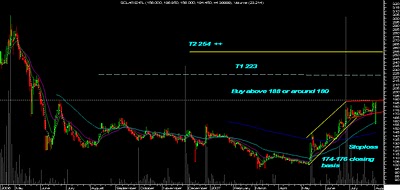 This is just an example of how trading or investing in the short to medium term, the way i would like it to be simple and less risky ...
SOLAR EXPLOSIVES
Minimum funda info :
Into manufacturing of explosives .. With a Good growth in mining a decent funda idea i think , though i dont deep analysis in this area.... Decent co at least ...
Promoter Holding 74.6 % , Mutual FUnds 9 % ( hdfc n NOTZ Stuck ET CIE SA a/c Aruna Fund) Dividend of 15% ..EPS of around 6-8 for coming year ...IPO priced at 190 so available below ...
Technically :
Investment buy betwen 180-186 stoploss 168 tgt 223 -254++ . Traders above 188 with volumes stoploss 178 tgt 223 -254 .
RIsk = 5% ..expected reward = 18-20% and 30% + on higher side with rest qty .
R/R = 1:4 So i need 4 such wrong trades to cut my 1 good trade 🙂 ..The risk is lower if we enter on confirmation of our breakout analysis ..
This can do the target or hit the stoploss but u know what u are into and the idea is clear no emotions just plain business 🙂
So this is just a very brief way of going about a particular investment or trade idea.
Regards ,
Nooresh
09819225396