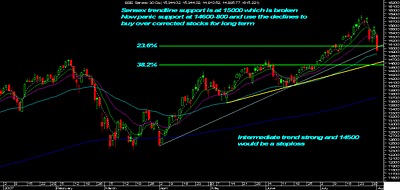 Sensex has taken a sharp crack today and closed below our support area of 15000-15100 which is not a good sign ... Technically till yesterday the charts had given a good reversal signal and but the global meltdown generally takes a bigger toll on all emerging markets like india , taiwan , korea etc....
Such fierce corrections will be quick and deep but followed by a faster bounce back amidst volatility ... The crack has not given a chance to leveraged people to ease out ... Still i maintain this correction is a good opportunity to accumulate good stocks slowly for investment and good returns as nothing is wrong with the markets ............ Markets are trading below 15k support and it can see 14600-14800 levels but it is still a 2000 points + from 12300 days ............ So there might be a little pain left in coming days but compared to the crack this can be endured rather used to create a good portfolio for medium to long term ...
All the stocks recommended yesterday like SBI and PUNJ Lloyd dint go above or close above the levels so wai t...
Elecon Engg and Indo tech transformers are good bets and keep adding on declines and current levels for safe investments ....
I ll put down some support levels for some stocks which should be bought a lil above the given prices ...Close below the support levels would be stoploss
BEL around 1550-1580
Punj Lloyd support at 260
RIL support at 1750
TCS support 1100
Bharti Airtel support of 850 ....
My picks for 6 mths-2 yr view in small to mid cap : Shiv Vani oil , Aptech , Pennar inds, Andhra Petro , Mangalore chemicals , NIIT ltd , elecon engg , Ceat ltd ..
Thought of the day :
Thought of the day : Panics , blood and good meat are common on this street, and if you are in a slaughter house , u better have the balls for it .....
Best Regards ,
Nooresh
09819225396