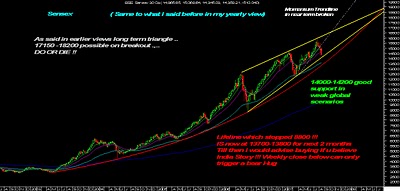 The above chart clearly shows the long term view which remains bullish and sharp corrections will always be a part and parcel of the move.............................In the earlier scenario the momentum expectation was correction to 15100 and 14700 and we did see good 300-400 points bounce from these supports but did not sustain and in many cases due to global cues ....
The current lifeline for the Sensex is in the range of 13700-13900 and these is a panic support area which might be seen in very bad global cues ... Ideally the triangel support region is 14000-14200 which would be a good area to see a bottom formation ... Weekly or monthly close below 14700 levels will only open up bearish possibilities
Dow Jones index similarly a weekly or monthly close below 12800 could open up bearish possibilities whereas panic support lifeline which has withstood many corrections has support around 12300-12500 ...
Stock View :
There is one thing to be seen in this correction which will only be observed if you have really looked into ur portfolio as an investor
Markets have corrected almost 1300-1500 points .. In all the previous corrections the midcaps and small caps have been thrashed and investors have usually lost 20-40% in such corrections ....
But in this correction we have seen some really market outperformers in the broad markets and have given good returns in these markets .... Like we have been recommending Torrent Power, JP hydro , Tata Power , GEI inds co , Mangalore Chemicals , Nagarjuna Fertilizers , RDB inds, Walchandnagar Inds , GTL infra etc etc which have given good returns and have not corrected much also in the current fall ......
This is an investors market and not for traders as i have been repeating for last 2-3 weeks ....Come out of your compulsion to trade without any logic or justification or strategies to bail u out ..
Some of the weird small cap ideas have also given very weird returns ranging from 30 % to 200% ...But i always advise keep lesser exposure to these stocks and more to investments for safe and secure returns ...
For todays day when markets were down we recommended to buy Triveni Engg at 59.50 -60 levels and to add more around 61 again ... The call is still open for a target of 69-75 for in short term ..........Part booking around 66 ...
Also Bongai Gaon refinery was sent to friends and free list on my yahoo at 55.80 -56 did 59 after that and still good for 65
Best Regards,
Happy Investing ,
Nooresh
09819225396