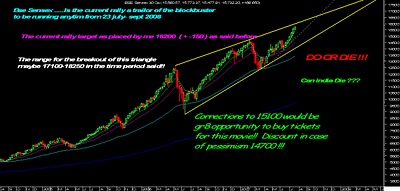 SENSEX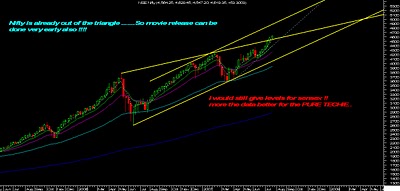 Nifty
As usual after a long time i am back with a very different view which not many would agree with but technically this is what it is and can be ....
Sensex in the current rally as we said the targets are placed at 15650 and 16200 on the higher side ...The 1st is done now looking towards second ...
Now the long term view and i would be conservative as usual .....DOW JONES i said newer highs at 12500 and 14-15k in next 2 yrs or sooner ....It ran faster !!! ...
Two formations on the weekly charts
1) cup and handle in which the ideal tgt shud be the size of the cup and that comes to 17100 approx in 4-6 mths as per time equality to the formation and the rally ....
2)Long term Huge triangle ...
Breakout from the triangle on the sensex is got to happen any time between now and the latest by Spet 2008 ...Ideally a Do or Die !!! situation or the big bull run impending the FIBO year cycle starting in July - Sept 2005 would be delayed ....
Sensex if breaks out of the triangle in coming months in which a dip to 15100 in good sentiments and 14700 or little below that in weak sentiments should be used to book tickets ( BUY Stocks ) for the blockbuster movie run possible by Sept 2008 ( 1-2 mths + - ) my ending time line for the release !!! well the current rally could become a trailor to the run awaited in future !!
Nifty has already broken the triangle so one very unusual possibility would be a run run away rally taking us to our tgts given in theby cup n handle right away in next 4-6 mths 17100 .... ...
Well i do give Sensex tgts simply coz i m a pure techie ...More the historical data more can u interpret ... Nifty doesnt have gaps dunno why !! and other tech reasons ....
The targets in that case would be 17100 as per cup n handle and 18250 + during the timeline ... .. Possible corrections in the internal line given will need to be seen for how a pennant or smaller channels made in the triangle and that would be done in our short term analysis ....
Well corrections are part of the game and we may come out with short term views to lighten or add heavily but this yearly view remains.... In weak sentiments i dont expect to see sub 14k levels by end of this year as per the charts as of yet .....
The view is definitely not for the traders or short term .. Yearly VIEW and the long term story for next decade is gr8 in India ....
We maintained the BULL view at 12300 and i will maintain this at16k -20k-25k the value is not that important , stay for long term in Indian markets and that is more important .....Panics should be used then to wait for more..............Well we were the only people to come out with such ideas at 8800 and 12300 and 14700 ( exit here ) ..... Go through the archives and
https://analyseindia.blogspot.com
These are my views 🙂 a little mind boggling though but this is how it looks technically !!