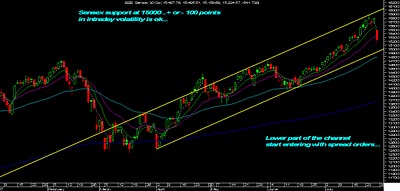 Always a more then expected CORRECTION comes in the markets which is basically to correct all the lion hearted risky leverage players...
Everybody loves to stay overleveraged in the market and that is the reason majority of the greedy traders lose out and are not able to conserve the profits they gained over a long time .............So the risky money allocation is the incorrect way of doing the business and gets corrected during such corrections................So if u have been caught on the wrong foot better get alert the next time u dont commit the same mistakes...
Sensex has strong supports around 15000-15100 region and would be difficult to close below these levels in the next 3-4 sessions ... Intraday volaitlity can take it some 50-100 points lower or retrace before that as margin pressures and long unwinding etc will be witnessed ...
everyone who was waiting thinking i will enter on correction ............ I bet they will keep waiting only for more .... So it is ideal time to start of entering good fundamental stocks which u missed out in the previous rally ,.... We wont be buying on lows but prefer entering on the confirmation of reversal ....
Will try to update more whenever i get time ...Was a lil busy this weekend ....
Session for delhi being planned for this month so who ever is interested do get in touch so we can put it into our schedule ..
Stocks to Buy on declines in these weak sentiments for investments but can also give quick returns in next 2 weeks so take 60-70 % of exposure of what u would ideally take in these stocks and keep spread buy orders till lower levels so u get a good average in the voltaile day ..The stock may be bought on declines below the lower levels also for investment ......
JP hydro around 36 and below
Jindal Stainless around 162-158
ntpc 158 to 162
HDFC around 1900-1850
BEML around 1200-1230
Best Regards,
Nooresh
09819225396