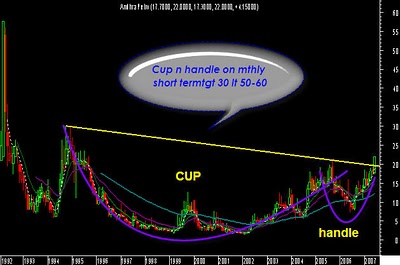 As we had said will be sending free investment idea... Here see the message that was
sent to people on June 13:::Andhra Petro was at 20 then ..

investment call for all : Buy Andhra Petro 60% qty now and add on declines for a 6 mth to 1 yr view for appreciation of 30-60% ...
Pure technical call and here we see an announcement of dividend on monday ...Call given to clients at 18 one month back and accumulate for long term tgts of 30 + still maintained also add more call at 20 ..
Also Auro pharma call at 695-725 to accumulate tgts 760 -765 and then more maintained 🙂 ...
This is our next long term technical call after excellent returns given by oil country ( 24 to 55 ) Mukta Arts ( 70 to 115 ) ..and many others....
The technical reasons for the stock are shown in the chart ...Fundamentals will start glowing up soon ...Dividend announcement came in ....
Smell the news before it comes 🙂 i.e power of technicals.