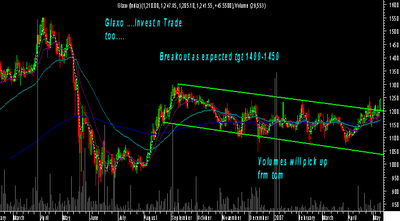 Recommendation for Glaxo was given yesterday and has spurted as soon as possible 🙂 ....People understanding the effect of simple safe returns .... frm 1210 to 1240 in the day ....Almost near our momentum breakout levels ....
The stock seems set for good moves in coming days and i expect many other analysts will take some time to realize the expeceted move in coming weeks or leave it untapped...
Even EIH ltd looks good for an upmove did move 5% after our repeat of the investment in it...