We have had 50000 hits in less then 4-5 mths !!! With more then 400 posts on the main page.....Although i started updating daily since last 3 mths only ....
Hope this community of our readers have learnt a whole lot of stuff , earned well and above all enjoyed this roller coaster with the markets and investments ....

Seen the markets the way it is supposed to be and not what u want it to be.....Pure technical analysis and simple visions to find good multibaggers and safe money compunding scrips for investments and magical technicals to find zoomers for short term in any type of markets....
We will soon be starting our own website in next 3-4 weeks as we plan to do it well as usual and are restricted by the amount of time we are left after analyzing and giving good safe recommendations to our clients and training sessions for interested individuals....We have booked a two domains www.analyseindia.com and www.chartagain.com and soon they will be up with as good features as we can provide to our clients , ex students and our community of readers....

Below is a copy of our visiting card ...... First designing work hope to put our creativity to work in our site ....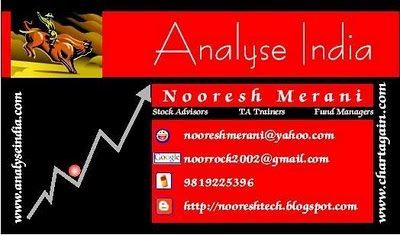 Best Regards,
Nooresh