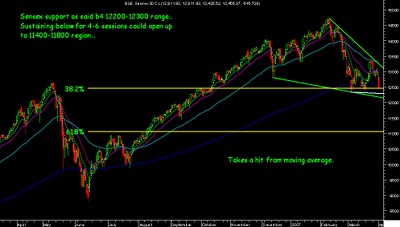 We maintain our views like before 12300 and 13300 sustaining for 4-6 sessions necessary for clear indications.....The markets in the current pullback could not sustain above 13300 which shows its become difficult to absorb pressure at higher levels...
Currently the Sensex has good supports lined around 12200-12300 which if violated for 4-6 sessions can lead to levels of 11800-11400 region. I would not like to comment on exact day to day behaviour which is more of speculation and wishful thinking ...some techies may present 15 min charts and other stuff it will seem like big movements which may end up being 10-20 point fluctuations....
All the doom theories will come now as expected and if we do see a bigger dip which is still not clear .. the TV guys will start shouting over valued at 12k and at 14.5 k this were the same guys talking about future potential and all ......The Valuations are getting real cheap in the mid n small cap segment which hardly participated in the rally ...Focus towards midcaps with systematic investment in good stocks by picking small chunk every week in the same stock ...MIDCAPS will rule in the next rally ...
We had advised people at 14.5k exit and sit on cash peacefully ..had to listen to some criticism which has turned into appreciation now...Later advised put in 30-35% back for investors at 12500 levels actuall had to plead people to wait ... Now we will wait for clearity or support on big dips if any to tell them to put again 30-35%...
In between the positional calls initiated were
Camphor and Allied products
given at 60 odd hit a high of 100+ super returns,..
call at 135 hit 160++ maintain hold
given at 14.40 sustain tgt 18 hit 23 still at 21 book full
RPL , Wockhardt pharma, NTPC , CESC gave decent returns and hit trailing stoplosses ...All these look good for adding on declines...
TCS , DCB were duds and gave good losses to indisciplined traders...
Some very good calls like renuka etc were passed in the day ....
Alpha geo , seamec , aban Lloyd , Oil country Tubular, Tata Elexsi remain our favourites for investment view of 6 mths to 2 yrs Educomp , Gspl , NIIT , Aptech must for long term portfolios ...
Best Regards,
noorrock2002@gmail.com ( BANGALORE session on April 6-7-8 th so if u wanna join in mail )
nooreshmerani@yahoo.com ( add on yahoo to chat for your queries )