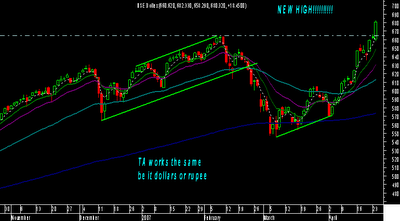 All the big deals and quantification of any economic measure is done in terms of DOLLAR price only ... May it be in uzbekistan or India or UK ...

This was also a part of analysis ....The markets never really seemed in a precarious position or even slightly bearish if you check the BSE DOLLEX ....

" Foreign investors would find this index to be very useful as it would help them measure their 'real returns' after providing for exchange rate fluctuations " These are the quotes explaining it

NOW this has hit an all time high so FIIs are on a high isnt it ( funda guys will explain u the dollar n rupee principle and relation for FIIs) ...I dont think i need to say more ...( Check this relations with other measurements of economy and u will be boggled about what we want to convey, will put up more in it soon when i get time ....) I dont like writing much on economical side hehehehehe.///

But still people were not able to understand our reasons for being bullish on this markets and we did hear a lot of criticism when i came out with a hard hitting article at 12k levels... Fool Hardy Predictions check it on the right side some nice ones out der..

Above all the MSCI and ASA WORLD INDEX have hit a new high in this week ...So it was obvious for us to follow it sooner or later we did it in DOLLEX terms ...

Thats why we had been writing of discounting of CRR hike already done and the follow up buying was just to kill the bears ...

ONE OF OUR FRIENDS said this ( JOKE / Tragedy) :
Many of the so called analysts said at 12500 -12800 we are going to surely see 11700 or lesser then that in this BEAR MARKETTTTT...
FALL we were shorting for 1000 points from there
Now it is up to 14200 that is 1400+ points on the wrong side ....SUper Analysis ... I should have rather played in the casino at least i wont have had sleepless nights and terrorising days !!!!!!!!!!!!!!!!!!!

TECHNICAL ANALYSIS TRAINING SESSIONS SCHEDULE :

MAY 05-06 ...Our only session for MAY so pass it on to interested ppl in Mumbai

MAY 12-13 HYDERABAD ....( few seats only )

MAY 19-20 DELHI ...( book it faster) ..We dont take more then 8-10 people so seize the opportunity to learn...
Best Regards,
Nooresh
09819225396
meraninooresh@yahoo.com
( ONLINE UPDATES )
nooresh.merani@yahoo.com
( BACK UP ID )
noorrock2002@gmail.com
( FOR OUR EXCLUSIVE SERVICES and TRAINING )