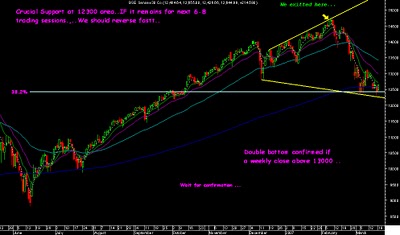 As written a week ago if the level of 12300 is sustained for 3-4 weeks we should reverse..
The level has been tested once and a double bottom IS A POSSIBILITY.....If the bottom is not breached for another 6-8 trading sessions expect a big reversal ...All indicator guys will then come supporting...
The world is waiting for 11500 so very difficult to come ...Wait for confirmations of breakout from the pennants and wedges in heavies......Will update as and when the confirmation is done which should ideally be a weekly close above 13000 levels ..
We are at good support region of 38.2 % from 8800 low and another support is placed at 12250 odd levels from 4227 low of 17th May 04....