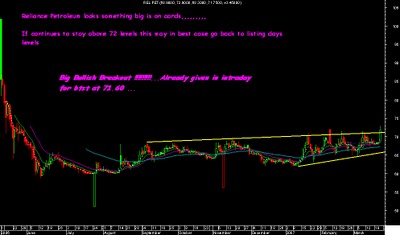 Reliance Petroleum ...The stock has moved out strongly from a very long consolidation pattern...
The stock was recommended to our clients a few sessions back as an accumulate till 67 and big move on cards...
A BTST call was given to yahoo messenger buddies at 71.60 as a good one.,..
Now any declines investors should buy and traders can mint money in coming weeks...Old investors stuck will see their levels soon......
View Given on 12th March Fool Hardy predictions ....
Some of the imp lines in it
Markets have made a good bottom at 12340 which was 55th day from 12800 bottom...Fibo time analysis says this is a good reversal place and if followed by good consolidation then the bottom will stay for long......
I maintain that if we dont break 12300 for next 3-4 weeks all the big bears and big analysts will be peeing in their pants
....Bearish scenario in these markets will only creep if we give a weekly close below 11400 levels... If that happens it implies india is no more shining and i m off to any other place then india ,...If u believe india story then forget u can see sub 11k levels if u do then shut shop go off for better opportunities .......
( If u are interested in learning technical analysis