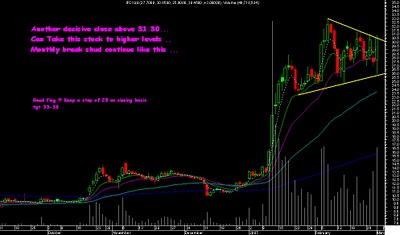 IFCI as written 2 -3 days earlier will start a new run ...
Now the stock is about to break out on charts...
Earlier frm 12.75 to 23.... was the gain we made ...Now lesser gains but quicker in near term...
Monthly breakout stocks do keep running forming such consolidations followed by runs...So we like to get in again when it is about to start ...
Tgt for near term 33 and 38+++ ... i expect it to touch 42-44 levels in medium term with ease...
9819225396 ( call to learn more and know more )