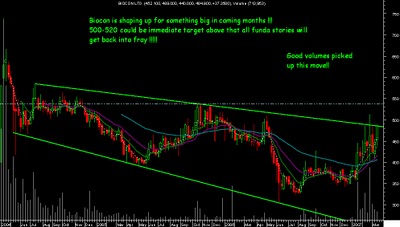 Biocon :
One big story which comes up and finiof at 500-520 levels ...This time the stock has moved up with huge volumes..
The immediate target for the stock is 500-520 ...But once that is cleared i wont be surprised to see 650-700 ++ levels
in a years time or more ...
The indices will remain volatile for coming weeks ...There would be certain stocks which would keep outperforming the markets.The
time is here for investors to build a portfolio steadily in this weakness ..Traders should be quick and look for only extreme short term
and intra day at times..
Further weakness only if we close below 12300 and mild bullishness above 13200 and during this any good movement onthe sensex will lead to good bounce in beaten down in stocks in the IT sector , value buying in cements, value buying in newlisted stocks which are below listing price ( this is pure speculation ) ...Still rolta and other favourites did well ,,,intraday also some good stock picking from our side...
Short term investments with very small stoplosses.:
Cinemax ( risk is high ) , accel frontline and datamatics ...
Animation industry is what i like personally ...UTV software and tata elexsi remain my picks ...Many other firms are not listed...
Regards,
Nooresh
9819225396 ( people in bangalore do get in touch )
noorrock2002@yahoo.com ( add for more updates )