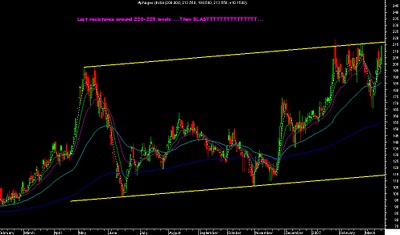 Alpha Geo had recommended to add at every decline even passed the message that this is
the last time you are gettin to accumulate for long term ...
Recommending the stock from 160 levels now at 213 still maintain a multibagger on the stock...
Seamec attractively priced at current levels ...Good level to invest...Another multibagger in the making...
3 Stocks were only given for short term investments have performed excellently ...
Usher locked again at upper circuit reco at 14.30 now 19 +
Saksoft from 135 to 152 slow and steady keep holding...
Camphor Allied products from 60 to 85 keep trailing stops ./..
NIIT , NIIT TECH , ROLTA our favourites in IT have outperformed all sectors indices ....NIIT n NIITTECH have doubled from our recos...Rolta will soon ...All multibaggers and many others given in the same sector from us...
We are planning to come to Bangalore ...So people interested in learning technicals contact us .......