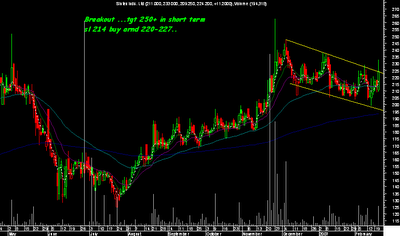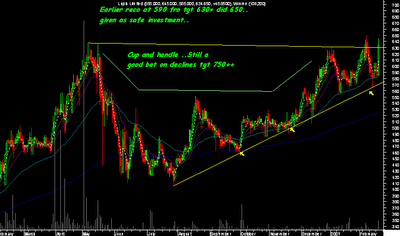 As epxected the market trying to fill the gap which is still not filled ..
The market has support at 14100-14040 gap which should ideally be filled to retrace back strongly ...The charts still dont show any fresh bullishness as the current retracement from lows is not impulsive..

The simple strategy is keep a trigger at 13900 levels and stoploss at 13780 for all your longs and for going short ...

If we sustain below 13780 now or after vudget or later it could be a big crack .....which is actually a good possibility in coming weeks..

The current scenario is a bounce from 14040-14100....So even if there is a fall which can occur in coming weeks ( a possibility ) everyone will get good exit levels so not a problem...

Fresh bull run only if we sustain 14800 as said always ...

Sintex inds :

Another swing trading pick for extreme short term buy around 225 levels with a stoploss ar 216 for a targets of 235 and 248 ...

Lupin :

Had recommended before as a safe investment pick at 585 levels for a target of 630++ it did 650 levels then ...Now after a little dip it has bounced well from support ... expect it to touch 700-750 levels in coming months ...Buy small or trade quickly and add on declines for long term ...
Nooresh