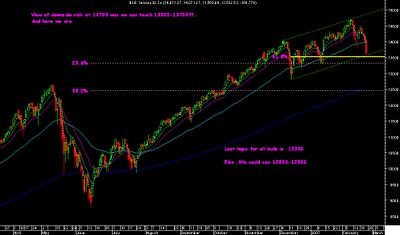 INDEX STOCKS PUT UP ON FNO BLOG CLICK Here
The View given on feb 9 and 11 maintained risk was 13500-13700 thats why we said exit to all ...
The calaculation for these levels was based on our conviction that 147oo odd would be the intermediate top ...So the next correction should be 61.8% which was to be around 13530 levels!!!!
Now we should ideally see a bounce back from 13500-13550 levels maybe a little margin on downside in intraday ...
The expected bounce should target 13900 + levels ....
The last hope for bulls is placed at 13300 levels which i consider is the rock support if the current bull rally has to continue with full force...
Sectors to pick in correction :
Favourites remain the same :
IT ...Mid small could be available at attractive levels ...Large caps like hcl tech, rolta and wipro are our picks
Oil Drilling the next best story
Alpha Geo ( Still maintaining ) , Shiv Vani , Aban Lloyd , Seamec , Selan Exploration, Garware offshore , Great Offhsore , Ge shipping ( possible surprise pack ) ... all long term players should have good exposure in this sector
( call me btwn 4-9 .... except 6.45 -7.20 for queries n services...)