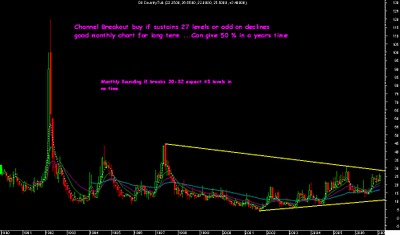 Monthly chart

Oil Country Tubular : ( Unknown Stock )
One of the small cap cos which looks good on charts has given a fresh breakout on daily charts ..
If it sustains above 27 levels it can touch 30-32 in short term ...So buy now and be ready to add on declines ...
For investors do a little research seems good to me ...Good monthly rounding pattern can be a multibagger in years to come ....
If sustains 30-32 levels it can touch 45 + levels ...
( call me btwn 4-9 .... except 6.45 -7.20 for queries n services...)