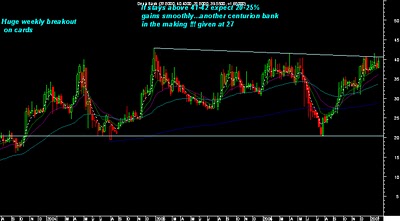 Dena Bank is one of my favourite banks and should be in a long term players portfolio ...The stock according to many fundamentalists is undervalued at current price and everytime it dips to 34-36 levels is an opportunity ...
The stock is a safe one coz it cant fall more then 15-20%%% on the very worst side ... So safe players keep adding this stock for good safe returns ..
Traders wait for crossover of 41-42 levels ... Above this levels you will see very good momentum...
Last time we gave such stocks was
South india bank at 70 odd levels now 100++..
Centurion Bank of punjab at 27 levels now 38
City union at 125 levels hit 170 -180 ...