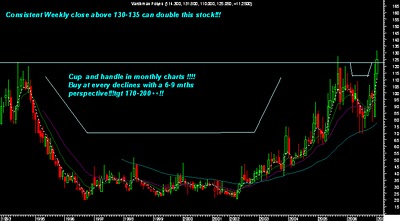 This is only for very very patient investors and who will keep accumulating the stock at every dips!!!!
Last time i had given such a view about Can fin homes 2-3 mths back around 58 levels it hit 76 and still our target of double maintained coz of funda n technical reasons...Same here in this stock...
If i do get time i wil put in funda inputs for the stock...Currently its in a very bullish monthly formation and can actually double from here in next 6-9 mths or more...
A good formation and people say good stock fundamentally still dint check deeply into it..If somebody does have details please put it in the COMMENTS>..
( for queries and services 4 p. m 10 p.m )