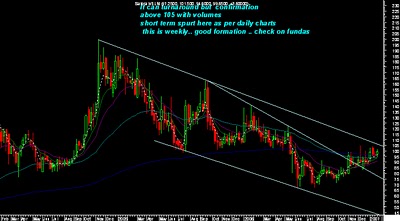 Salora intl and Clutch auto below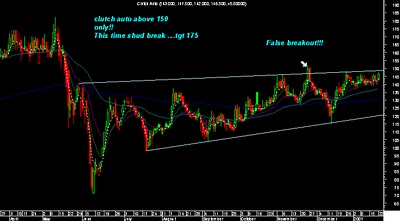 LINK ::::: DOWNLOAD FROM HERE>>> Presentation on technical recommendations given by us..
https://www.savefile.com/files/433308
It has become difficult to put up charts regularly but yes i m giving in good stocks with levels so keep tracking this is one of the stocks i like,,,
Clutch auto an investment pick and trading pick above 150 for quick target of 175 and for long term no worries
Salora intl pure technical trading pick for a week or 4-5 sessions if it runs book profits even if it doesnt then book loss but pure trading pick!!!
Buy at 99 -101 sl 95 tgt 108 ,117 ++
Intra day traders pick Pyramid saimira and indo asian fuse gears , buy for quick bucks in morning sessions ....
Visualsoft and megasoft looking good , visual our reco continue for huge targets ...
Circuit hitters for few days
1) Syschem india cmp 1.94 5 circuits out here of 5% ...RISKY SO DONT TRADE JUST FOR REFERENCE
2) SKM egg products if avaialble buy to sell at circuit...
Short term Investment picks :

Mcleod Russel and Pitti Lamination
Our investment pick ITD cementation tgt reveised to 900-1000
Many stocks will be given but its entirely your decision for which to go for ....
Regards,
Nooresh
9819225396

(feel free to call me btwn 4-9 .... for queries n services...)

noorrock2002@yahoo.com

noorrock2002@gmail.com