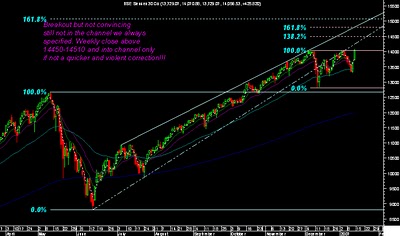 As per our previous view 14100 should be sustained for us to see 14510 and 14800 levels ...

We maintain the view but i dont recommend going long in Nifty ... rather look for specific stocks .. we want gains and should look at thje best place to get it ...

CONCERN :

Sensex did bounce but i am not convinced in entirety of a blow away frunaway to 16k and weird levels which people are talking about in short term long term you tell me any level it will be achieved .!!!! ...

The reason is sensex is still not back in the rising channel and this may be a breakout but we still are not in a sustaining easy upward channel ...

In such a scenario one should expect a violent correction to lower levels and so a cautious approach should be taken in such a scenario ....

The only way we are back in a strong upmove if we sustain above 14450-14510 levels at the end of this week and for another 3-4 trading sessions ...So please dont go overboard in this last leg ....

As per long term prediction and view in june -august when i used to write on orkut and here also ...

We are set for a huge bull run which will go beyond expectations frm september to JAN ...
And now we are nearing the end of this rally so waiting for signals ...

The maximum we can achieve is 61.8 % retracement from previous high 12671 to 8799 ...

this comes out to 12671 -8799 = 3872

3872* 61.8% = 2392

Target 12671 + 2392 = 15060!!!!
TARGET FOR LAST LEG OF BULL RUN PLACED AT 15050!!!!!

Stocks to lookout for :

Regards,

Nooresh