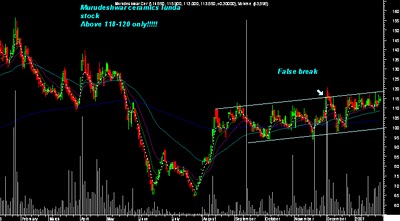 MURUDESHWAR CERAMICS

Another stock which was hard sold by people at higher levels...I like the stock fundamentally frm 45 levels months back ...Much more to go fundamentally ...But technically i would say wait for a decisive breakover above 118- 120 levels only ....

If you like the story and ur research on it then you can take your call at current levels...




Pitti Lamination

was given as investment stock on monday !!!!
On tuesday Goldman sachs picked up a nominal 50000 shares in the stock and we are not the
The stock looks goodon charts fundamental buys were given on the stock by many big broking firms previously at 120 levels ...!!!
Now at 85 its cheap if u believe those firms !!!!
We see it a accumulation stock or wait for a breakout above 88 levels for quick money