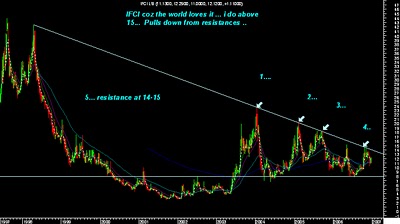 IFCI darling trading stock of people ... Its a risky play ... The last time i recommended it as a risky play around 10 rs... u can check out the link of archive ...
The stock seems to be turning around but i dont really feel so yet ... rumours of profit result and etc... But the stock has always been beaten down from the steep down trendline arnd 4 times as u can c in the chart ...
The current reversal has been faster which is a good sign ... for lion hearted traders this can be bought for a target of 14-15 rs ...
The confirmation of turnaround would only be if it sustains 14-15 levels for few weeks ...
Current view buy for at target of 14-15 and then if it breaks u can expect a total turnaround which can double your money slowly and steadily...