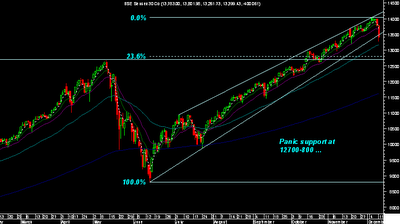 As I had written previously the sensex facing trouble at 14100 levels and from these levels we could see a fall of 500-1000 points . check this out...
Boldly written buy puts hedge ur longs at least ... see what happened to puts today circuit n what not ....
Medium term trend in no probs till 12950 and stoploss of 12800 if we see fibo levels simplicity ...
Markets shud take support at 50 day ema arnd 13150 tomorrow mostly so tom buy arnd 13150 ...
Buy broken out stocks at lower levels .. or overcorrected stocks ...
Zee tele is now low buy till 300 one of my fav ... OIl stocks nearing 61.8% correction level 2-4 % more fall left after that quick retracements can pull the nifty ...Rel capital now cheap buy at dips ...
Gipco looks set for breakout keep track...
2) elder Pharma above 360
northgate
panama petro
sasken above 505