In our recent report Technical Trades – January had recommended West Coast Paper Mills at 49-51. The stock is now close to touching the 60-65 target. This was also recommended as a bet in big value.
This is the chart as sent in the report.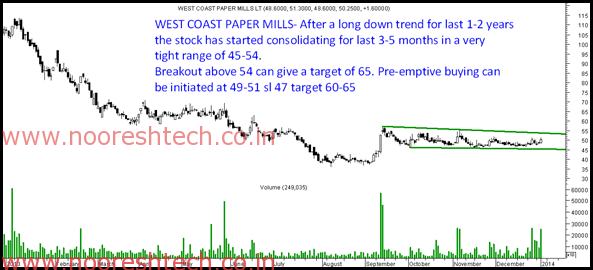 This is the chart as of today.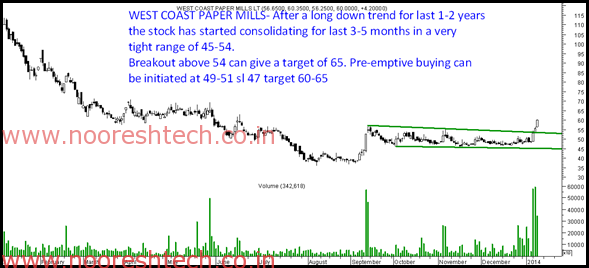 The volumes before the breakout were a very good indication. Although the stock has done the 20-25% move but can be looking at a longer term target of 90. Dips to 53-56 a buy now.
Now above was a hit. Below is a chart of a miss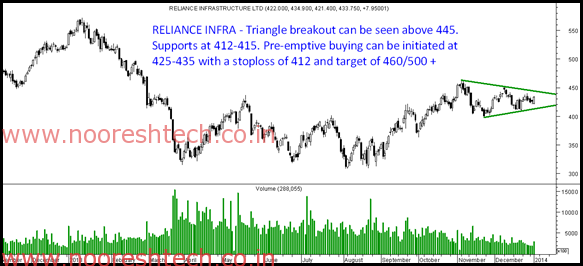 In Reliance Infra although the trade was to go on a move above 445. We advised an entry at 425-435 with a small stoploss.
The stock did not move well but is still on radar on a breakout above 445.
For now the Technical Trades – January report is closed. But we may soon come out with another report in coming weeks.
TECHNICAL ANALYSIS TRAINING MUMBAI – January 11-12
For more details mail to nooreshtech@analyseindia.com or call 09819225396 Nooresh ( after market hours )
Thanks and Regards,
Nooresh Merani
Twitter – https://twitter.com/nooreshtech
Facebook – https://www.facebook.com/nooreshtech