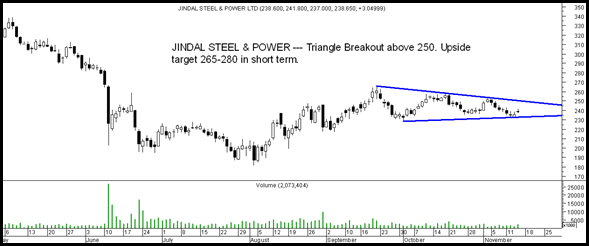 Jindal Steel
After yesterdays Hindalco post this is another metal stock which seems to be giving out a triangle breakout.
Stock can get into a momentum move above 250 which it has done today and target 265-280 and even 320 also in medium term if it continues.
Stoploss to be placed at 244.
Do fill your views on this Poll on Where Nifty is headed?
https://nooreshtech.co.in/2013/11/nifty-su-lage-che.html
Book Recommendation  and Website Recommendation
One of the best sites on personal finance -  Manish Chauhan – www.jagoinvestor.com . Would highly recommend Manish for anything related to personal finance as have known him for long and can vouch for his capabilities and integrity.
Would recommend reading his books.
Buy Jago Investor: Change Your Relationship with Money
Thanks and Regards,
Nooresh Merani
Twitter – https://twitter.com/nooreshtech
Facebook – https://www.facebook.com/nooreshtech