One of the major analysis point in midcaps is to look at delivery volumes. A low delivery volume percentage indicates a possibility of intraday speculation by traders,punters,operators or even hints of circular trading.
Now let us look at a stock
Religare Enterprises. ( This is the company from ranbaxy and is also a contender for the banking license. Also promoters have sold 10%  stake in the last quarter )
Todays NSE Volumes – 155695
Deliverable Quantity – 8432
Deliverable Percentage – 5.42%
This implies of all the trading done almost 95% of the trades were squared in the day.
The delivery percentage is not just low for a day but for almost 90% of the days in last two quarters. This can be seen in this nice chart from moneycontrol.com
It can be clearly seen how the delivery percentage has suddenly dropped from 85-90% in the earlier part of year to 5-10% and at the same time volumes have gone up by 50 times.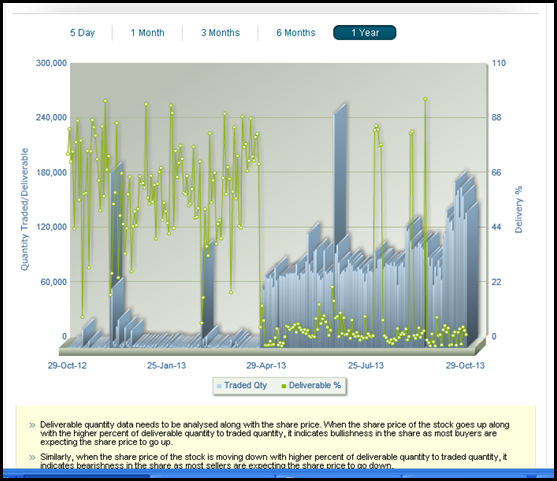 What is surprising is
-> The stock is not in futures where generally deliverable percentage is a bit lower.
-> The stock is not traded frequently by traders as per market feedback.
-> There is no daily news item on the stock for intra day speculation everyday.
-> Promoters  alongwith institutional and corporate bodies hold almost 85-90% of equity or more. Public holds barely 8-10% of the shares.
-> Total number of shares is 1.5 cr approx. Implies float would be around 15 lakh shares or even lesser.
-> Daily traded quantity on both exchanges combined is 2.5-3.5 lakh shares !!!
-> Deliverable percentage is only 5-10% max.
The whole question now boils down to who trades intra day in the above stock every day for last 6 months.
This looks like circular trading by some punters or there is more to it is difficult to say 🙂 but all said and done this is generally a red signal.
Thanks and Regards,
Nooresh Merani
Twitter – https://twitter.com/nooreshtech
Facebook – https://www.facebook.com/nooreshtech