In a very recent report had mentioned how Indian Equity Markets were at an inflection point and we could see some big moves.
Sensex/Nifty was expected to bounce back and Nifty to target 6200-6300 levels. After making a low at 5580 the Nifty did move up to 6080-6090 levels ( This was a good trade for us at Analyse India ) .
Even Now the Nifty is trading at 5650-5670 and above the long term trendline. But the whole assumption that Index could lead the broader markets has fallen flat on the face.
This is how the Sensex chart looks.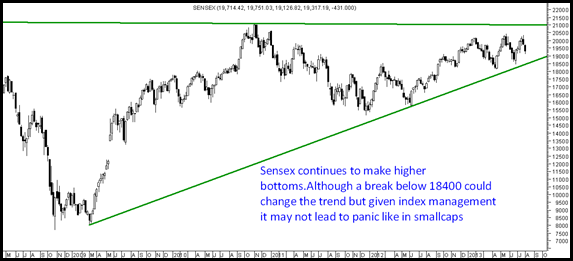 Nothing seems to be wrong technically till we dont break 18400 levels. A similar level for Nifty would be 5550-5600.
Even the bounce of 8-10% on the index could not make an impact on the broader markets. What we have seen is the broader markets or rather midcaps/smallcaps have just collapsed.
Look at the small cap index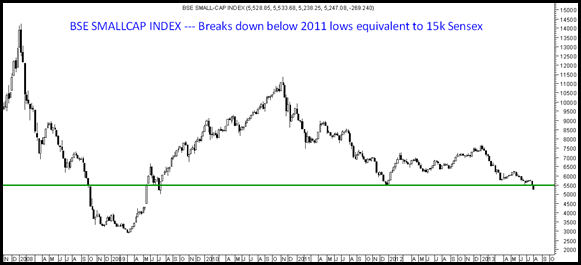 The index is now below 15k Sensex levels and 4500 Nifty levels. So the mayhem is terrible. Quite a lot of manipulated stocks have just collapsed.
At the same time quality smallcaps have fallen into the Put Call Option System. This has led to a fall in quite a lot of quality companies with terribly low volumes and have seen a drop of 30-40%. There are many bargains available but the illiquidity hurts any investment.
Falls of such size generally leads to big opportunities but one needs to be patient.
Markets have seen 1992 Harshad Mehta , 2000 Ketan Parekh and global falls in 2008-2009 and 2011.
So over a longer period of time quality stocks do catch up and fresh opportunities also come.
In the short term what we envisage is leveraged , manipulated and midcaps can see some panic falls. As we know panic has no logic and there is no point in being brave.
Also the best research is done in Bear Markets and this is when people dont really want to look at companies. So if you have good low debt companies and even if they are down 30% you just need to re- asses the investment logic. If there is no fundamental change just be patient for another year or two and you will be rewarded.
We at Analyse India are also seeing sharp falls of 30% in many of the recommended stocks but on terribly low volumes in smallcap stocks recommended. But there is no major fundamental change to warrant discomfort. Mind you the stocks do not comprise the Dlfs or Suzlons. Also in smallcaps the stocks just need 2 upper circuits to change the whole return factor in good times.
At the same time the short term trades have been profitable with nice moves in Nifty, Tech Mahindra, Bharti Airtel and some shorts in Fin tech , ITC , Adani and so on.
The strategy now is to be conservative with investment ideas , be patient, conserve cash but do a lot of research. Trading side it is a mix of long/short and strategies with strict stoplosses. Also be ready for any sort of panic if Nifty breaks 5550 but with index management it may not be seriously damaging as certain sectors like IT are breaking out ( Infosys ), Bharti  and the weightage of FMCG and Reliance increasing which may remain resilient. So a drop in Nifty will be well managed and with the current conditions a Nifty level is irrelevant for an investor/trader. There will be lots of rumours of a lower circuit in Nifty and so on over next couple of months. When people go on to that sort of despondency we may review to look for buying opportunities till that time be conservative and relax.
Technically we may continue to look for short term reversal signals if they do come by. If we do see a total trend change we can change the cautious stance. Also the shorts we are taking in trading are with extremely small stoplosses and few as bear rallies can be big.
Some stocks which come into radar in the small cap screen is NBCC at 80-100 , Elecon Engineering at 12-15 levels where we might review whether to enter them.
TECHNICAL ANALYSIS TRAINING SESSION MUMBAI
AUGUST 10-11
Can check a brief on the course outline https://nooreshtech.co.in/technical-analysis-training
TECHNICAL ANALYSIS ONLINE TRAINING SESSION IN AUGUST
This would be done through webinars.
For more details mail on nooreshtech@analyseindia.com or call Nooresh 09819225396 Ankit 09899899989
Nooresh Merani
www.analyseindia.com   ( For all our services )
Twitter – https://twitter.com/nooreshtech
Facebook – https://www.facebook.com/nooreshtech