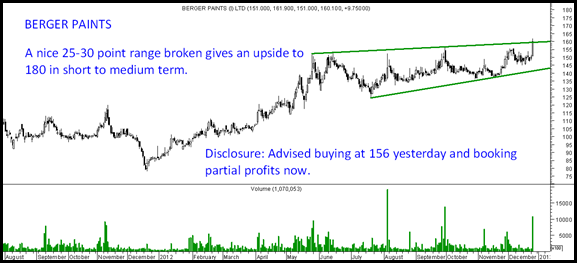 Berger Paints
A nice 25-30 point range broken gives an upside to
180 in short to medium term.
Technically some may call it a triangle or a channel or a cup and handle but in classical technicals we look at its in simpler terms a breakout which has upside of 25-30 points whichever pattern you try to name it.
Disclosure: Have recommended at 156 and booking partial profits.
A dip to 155-158 would be a point of re-entry for us.
TECHNICAL ANALYSIS TRAINING SESSION
BANGALORE – January 12-13.
Do register yourselves as we dont take more than 10-14 participants in one session.
For more details call Nooresh 09819225396 or ankit 09899899989