As was mentioning that a 50 bps was being factored in but a savings rate change from 3.5% to 4% after 19 years by RBI was a big hit to the banks as well as the debt market exposure which impacts the broader market as well with lesser buyers for corporate debts.
This would reduce the liquidity in the market and fundamental pressures could remain for some time.But the current quick measure is a positive in the long run had such measures been taken in previous policies would have given a better signal.
Also this indicates the growth is back on track and RBI can raise rates at such manner without a fear of decelerating growth. My earlier projection that better times could come for broader market after May-June period is maintained and also we would review a major trend possibility on the index after it. Till then continue to be stock specific and maintain good risk management/avoid leverage.
Bank Nifty -
The index got resisted around the previous tops.
Currently the fall has been too fast too quick. Next technical support levels at 10650-10800.
Can expect pullbacks from the support zones. below 10600 is a stoploss for risky traders.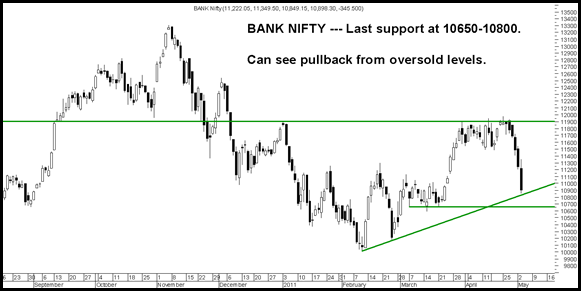 Sensex Technical View:
Though the entry point i was looking for was 18700 or lower but yesterdays crack has been much deeper due to the over impact of Banks and Auto stocks on back of rate hike by RBI.
Technically the breakaway gaps at 18218-18269 and 18373-18480 will provide good support ideally.
Sustaining below 18218-18269 would imply an end to the short term uptrend and we may even look for a possibility of fresh lows. Bullish bias continues till 18200 level is maintained.
Investors may focus on the broader market as the last rally was not participated by all stocks and many of the midcaps/smallcaps look interesting provided one has patience or may have a relook at higher levels after May.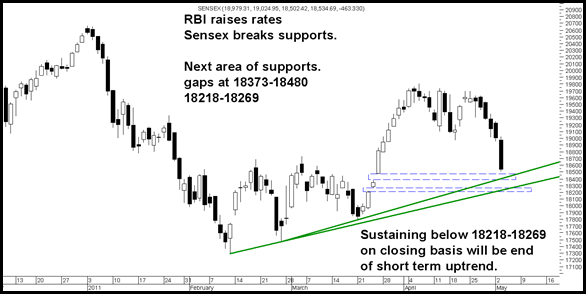 Stocks to watchout for :
After todays drop we may be vary of the banking stocks. But one may look towards SBI and ICICI for bounce back trades.
Our focus has been on Pharma Stocks – Lupin and Divis Labs look interesting for short term.
Disclosure ( Lupin bought at 420 sold at 440 re-entered at 423 , Divis Labs 685/710)
ALok Inds may be added if dips to 24 in market declines.
Investors may look to buy Mirc Electronics closer to 22-20 levels as a defensive bet