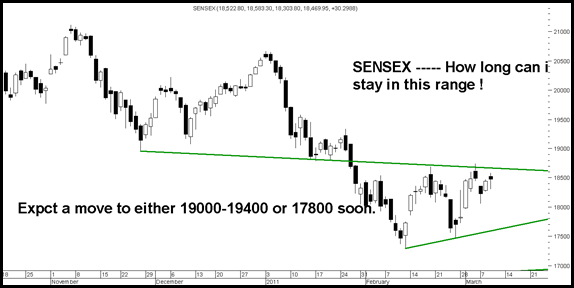 Sensex Technical View:
It is one of the most boring phases for the index with no clear moves in Sensex as well as in stocks.
Technically it is about time that Sensex gives a small directional move to either 19000-19400 or 17800 levels.
The breakout levels are 18200 on downside and 18700 on upside.
The levels of 17300 and 18700 or roughly 5200/5600 Nifty has already been tested twice. So next time it tries a hit it will breakout.
As of now Sensex has made a higher bottom in extreme short term so the possibility on upside is with a higher probability.
One of the distinguishing factor is the broader indices have still not pulled back. So we may see stock specific once SENSEX and NIFTY cross 18700/5600.
Stocks to watchout for: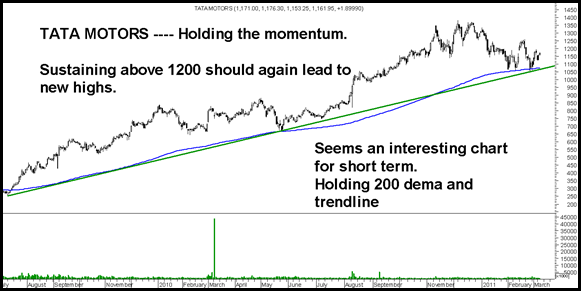 Tata Motors:
One of the few stocks in the current market which is holding the trendline. Also above the 200 dema.
The uptrend remains intact. Moving above 1200 could give a trading move to 1300-1400 also.
For now i would prefer to go with the Tata Motors DVR which i expect the price gap to narrow.
We have started with Commodities as well NOW ! The last few trades have been super – Copper 445 to 430, Silver 54700 to 53700, Zinc and Nickel shorts and so on.
Those who would like to get a free trial for commodities
Mail to freetrial@analyseindia.com
Subject – Commodities Trial
Details in the mail – Name, Phone No, Yahoo id, City etc.
Some more updates on Silver and Copper posted on our website -
https://www.analyseindia.com/analyseindia/testPager.jsp 
Regards,
Nooresh