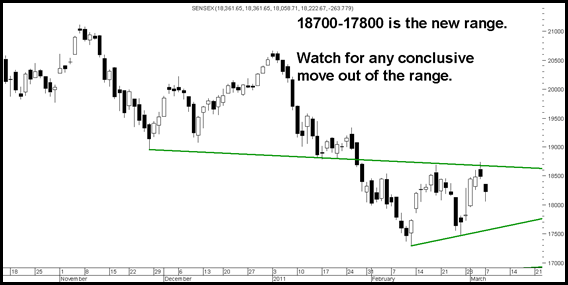 Sensex Technical View:
The new range for Sensex now seems to be 18700-17800 as seen from the trendline and near term tops.
We need to watch for a conclusive move out of the range for some directional move.
Silver Technical View:
According to our Commodities Analyst Silver seems to be topping out near term.
For full post read here - https://www.analyseindia.com/analyseindia/readPost.jsp?postid=48 
For the chart click here - https://www.analyseindia.com/website_uploadedFiles_techno/877573534.png
Those who would like to get a free trial for commodities
Mail to freetrial@analyseindia.com
Subject – Commodities Trial 
Details in the mail – Name, Phone No, Yahoo id, City etc.
Stocks to watchout for: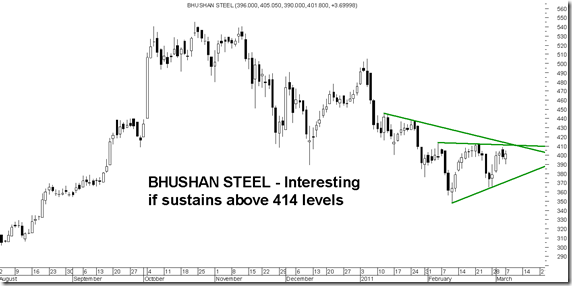 Random Thoughts:
According to one school of thought at the end of the financial year March 2011 there is a good possibility of a pullback in smallcap/midcap stocks in the last few sessions of this month to prop up the NAVs.
Also crude prices may stabilize over the next couple of weeks as it is not a demand backed move but a speculative move on possible supply shocks which are nowhere in picture as of now.
In all this case March end would be an interesting time 🙂