Yet another article on random thoughts.
In the last few weeks there have been some super trades and a string of trailing stop hit trades. There is no clear trend !
As the markets are in a very tight zone with high volatility stocks do give breakouts or breakdowns but there is no follow up buying or selling.
So in many cases say you buy a stock at 100 tgt 110 with a stoploss of 97 stock goes to 105 you take the stoploss to 100 and bang the stock comes back to 100 and settles around.
Same way we see small drops and no big cracks. In the last so many years i have not seen such kind off false moves. Although i wont consider them as be a false move but trade setups which dont totally materialize.
In the end the net gains or net losses are nominal !. So how can we avoid such time frames. First of all as i have been saying its going to be a difficult time so one needs to reduce volumes ( for example you used to trade 1 lakh worth or 1000 shares cut it to 300 shares or 30% )
The next thing to do is keep tight stoplosses or bookout at smaller targets. Else one may need to get into a little longer time frame where in you take a high conviction call on a stock and accumulate the position.
Basically a simpler thing to do is just NO TRADE till you find something highly highly probable 🙂
Below i am showing a few trades which didnot go the expected way or we had to cut short. 
Example 1:
Allahabad Bank -
Earlier we traded bounces from the 197 support levels which went fine giving good 5% moves.
Next when it broke such an important support its assumed the stock will breakdown by 10-15% but the stock did only 195 to 185 and bounced back sharply to touch 200 again!
End result 2nd trade dint make much money.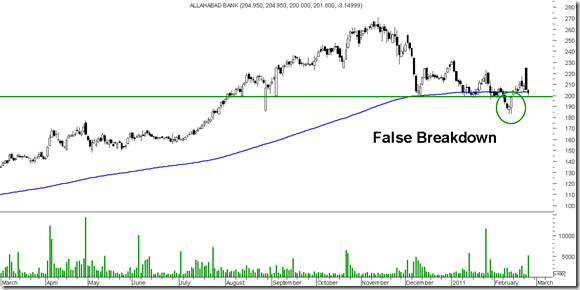 Bank Of Baroda :
The stock gave an excellent breakout at 880 which should have led to 960 levels but the stock stopped at 930 itself.
We had to book out at a net of 910.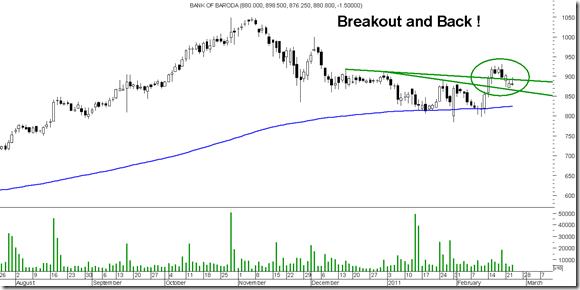 LIC Housing :
We had discussed a breakout possibility in the stock.
Stock did breakout above 198 levels but got resisted at 205 ( 200 dema)
Net result we had to get out at losses of 2-3 bucks at the max and for people who did take some pop up profit at 203-205 got little gains.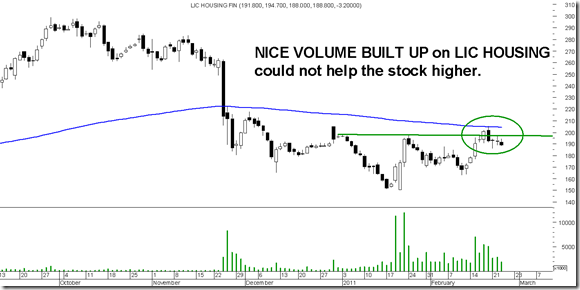 Mcleod Russel :
A classical breakout out of a range pattern as well as a pop above 200 dema made this a perfect setup for a low risk high reward trade.
Entry point 222 but we got out half at 230 considering the current scenario.
The rest of the position was exitted at 222-225 cost.
What seemed like an excellent breakout ended in being a damp move. Suddenly the volumes evaporated !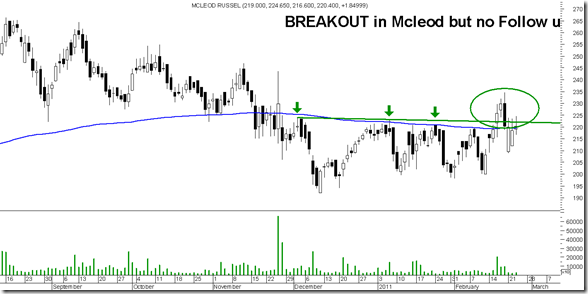 There have been many such trades but fortunately we took a very good high conviction bet in Reliance Inds. Advised futures to normal clients at 900 the stock did 940-950 1st tgt and the next part got out at 990 coz of the news got an extra 10 bucks above target of 975-980. Used leverage !
At the same time a certain Infosys which looked a breakout did give us 30-40 bucks initially but later took of the same. End result net gain = zero !
Apart from above charts there are many such false starts in many stocks which i have ignored but do get suck into some. Will post few more charts some time later in the week. Above charts show how technical analysis cannot be just Bookish!!
So as i have explained before till the index finds a good trend on either side we may keep the volumes low and wait for the best opportunities. Also keep tighter stoplosses and smaller targets.
When does a clean trend emerge. For now Sensex and Nifty are in the range of 18050-18700 and 5390-5600. Till we see some breakout out of this range which may give us a good 500 points on Sensex and 150 points on Nifty we may just trade here and there with small stops. Watch Closely !! maybe budget may have something which will decide it. ( Options suggest budget day could be 5% PLUS OR MINUS)
The above article just tells us about what is happening now but No Situation is Permanent so current strategy of lower volumes may not go forever. There may come a time where we may over leverage 🙂 also in the future.
Cheers,
Nooresh