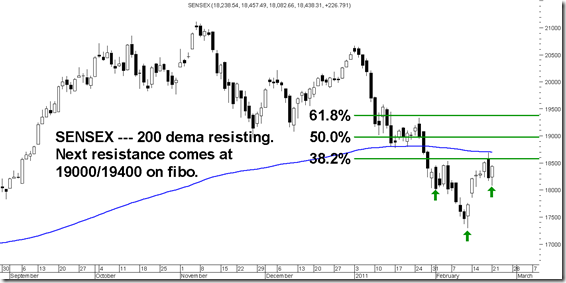 Sensex Technical View :
There is a possibility Sensex is making an inverted head and shoulders pattern but the time period is very small so many not be very reliable and probable. Possible targets above 18700 could take it to 19000-19400 band. ( Will budget give the filip for this move possibly yes )
For the short term trader 18100 now becomes a stoploss and a target of 19000.
Shorts can seen around 19000/19400.
Investors who have not been able to generate enough cash may look to do so at 18900-19400 levels as a precaution. A close above 19600 will only make the medium trend bullish.
Patience will be the key till March end. Expect volatility to reduce after March end also a better trend to emerge.
Stocks to Watchout for :
Reliance Inds is one stock which we had been bullish for quite some time and also generated a buy call in our Advisory Service at 900 should do the targets of 980 +. Solid resistance seen at 1010/1070.
C Mahendra Exports at a market cap of 1200-1250 crores seems pretty overvalued and could be a case of manipulation. After a quick jump up may drop sharply. Investors should avoid.
Divis Labs has mutliple tops around 675. Traders can keep a watch for breakout.
Canara Bank above 608 can give a quick move to 625.
Bhushan Steel looks a good intra bet for a target of 420.
HUL and ITC seem to be slated for a bounce in near term.
Power Grid still remains interesting above 100.
Market buzz suggests some more upmove on index with JPC formal announcement or something from govt before budget – Pure Rumours No Technicals.
Crude Oil has given a breakout above 93 and may head to 100-105 also which could be a concern for Indian Markets.
There seems to be a mad bull market in commodities and good possibility of some major intermediate top in the making especially in SIlver and Copper. Although there could be further blow out moves. We may look into their charts in coming week.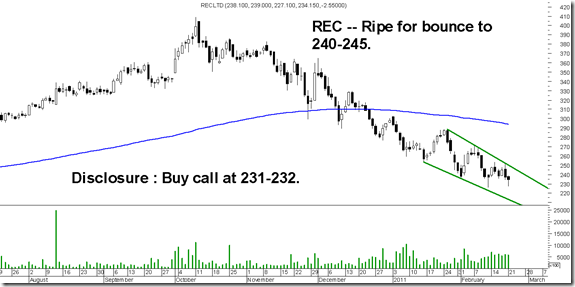 TECHNICAL ANALYSIS TRAINING'
MUMBAI 5th-6th MARCH 2011
AND
DELHI UNIVERSITY, NEW DELHI.Date: February 26-27 2011(SAT&SUN)
DELHI ONLY 2 SEATS LEFT.

Registration:
Kazim 09821237002 Asif 9833666151