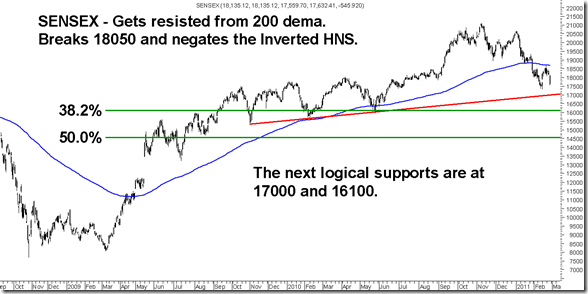 Sensex Technical View:
Yesterday we had discussed a possibility of an inverted head and shoulders in making which as suggested to be WISHFUL THINKING ended up being so.
The test of 200 dema and a subsequent fall confirms the continuation of the downtrend.
The volatility index has broken out and is headed to 30-32 though i do expect this vols will go down on budget day. But seeing that the market is too light and drops could be sharp as it was today i would wait and watch, take a call only after budget.
In the last randomn thoughts and before that have been mentioning that 17300 could be tested or may even be broken.
According to Elliot Wave there is one last wave down left before a strong bounce back comes in. Although it can go all the way to 4800 as per possible wave counts.
Now on the positive side the next fall may stop either at 17000-17300 or go all the way to 16100 ( Worst case scenario). After todays drop any quick drop in next few sessions would ideally create a positive divergence and a good opportunity to bottom fish.
Technically the very strong trendline comes at 17000. But in a down trending market no supports are sacrosanct and can be broken. But one needs to wait for some confirmatory signals after the bottom formation.
So for now next logical supports are 17300/17000 and 16100.
Bottomline:
The view remains that 17300 levels could be tested or broken till March end but we may soon be nearing a nice intermediate bottom followed by a steady bounce back.
We would be watching how markets react near 17.3-17k or where this down leg ends.
Ever since 19900/19000 broke have been maintaining the stance of very high cash at least 50% or more. Now the view is investors should get ready to slowly start accumulating quality stocks. Start doing some research to stick to strong quality stocks 🙂
Get Ready but Dont Jump 🙂
Randomn Thoughts :
While going through a simple screener of dividend yield on many stocks the list of stocks showing a possible 3-7% dividend yield the list is pretty long.
Even a large cap stock like Ashok Leyland is at current market price quoting at 3.3 % dividend yield. So any further drops to 40 or lower will take the dividend yield beyond 4%. The stock has been giving 100-150% dividend consistently since 2005.
Many other small cap stocks are almost at 5-7% dividend yield with consistent record of dividends for 5 years.
So is the market creating opportunities to get into defensive stocks if some of these stocks fall by another 10%
Will be listing few of the stocks if markets do fall in coming days. Some stocks which came up Andhra Sugars, Visaka Inds, Cosmo Films, Mirc Electronics came in a quick screening.
Would like more thoughts from fellow readers who do track some defensive stocks.
'TECHNICAL ANALYSIS TRAINING'
MUMBAI 5th-6th MARCH 2011
AND
DELHI UNIVERSITY, NEW DELHI.Date: February 26-27 2011(SAT&SUN)
DELHI ONLY 2 SEATS LEFT.

Registration:
Kazim 09821237002 Asif 9833666151
Regards,
Nooresh